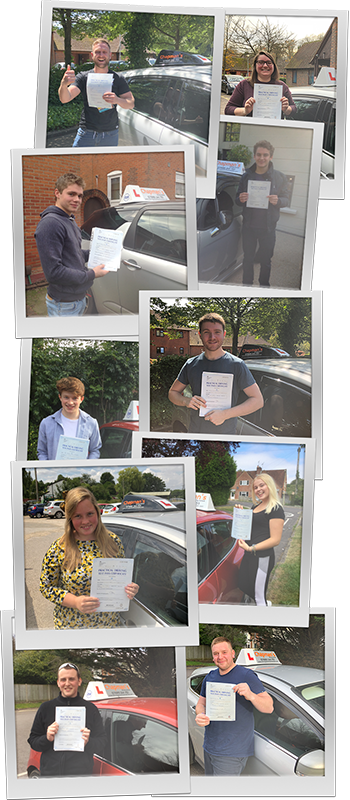 Richard Chapman is everything you could hope for in an instructor; he is polite, reliable, safe, and thoroughly commited. I really enjoyed our lessons and would be very surprised if you can find a better tutor!
Hi Richard - just wanted to say thank you very much for all your efforts in helping me pass my driving test. I was very comfortable driving with you and found your car easy to drive. And in particular what I really appreciated was your flexibility in arranging lessons and clearing space for a test date on short notice when one became available. Best of luck to you and your other students!
I would just like to commend Richard. Thanks Rich...! First for putting up with me & secondly helping me pass my driving test...!! I wouldn't have done it with out your help & guidance.
Although learning to drive is challenging for everyone, Richard always put me at ease, so I always felt comfortable during my driving lessons - something which I think is really important! Over the time I had the lessons, Richard tracked my progress clearly and showed me what I needed to improve on and what I had achieved, which was really useful. I believe Richard taught me to a very high standard, and I still use the tips I learn't from Richard in my everyday driving, which keeps me safe! I am pleased to say I am now driving around confidently and safely. I'm really enjoying it.
A brilliant instructor. I was taught everything and more and my confidence in my driving rapidly increased. Everything we covered was with great detail and there was huge improvements in my skills. I passed my test first time! Thank you Rich.
Thanks Rich for helping me to become my Sister's taxi driver! I really enjoyed my lessons, even if I did end up learning most of it in the dark! 'Pass Plus day' was great and improved my skills even more. Thanks for making me a safe, confident driver; we'll see you again in 3 years when my Sister starts learning.
Richard was endlessly patient, encouraging and good humoured. I really enjoyed my lessons with him and with his help and advice my driving and confidence greatly improved and I passed my test. Thanks to him, I'm a safer and more knowledgeable driver. Legend!